It's true, Cinco de Mayo, which you thought was a quintessential Mexican holiday, is more or less ignored by the country. Meanwhile, in the United States, May 5th is full of celebrations.
We're getting to our nacho recipe (we promise!), but first here's the real story behind the holiday in the form of some quick facts.
6 facts about Cinco de Mayo you might not know
It's not Mexico's Independence Day; it's September 16th.
It is the anniversary of the Battle of Puebla when the Mexican resistance was victorious over French troops on May 5, 1862.
In California, the holiday has been celebrated more or less continuously since the 1860s.
Outside of some communities, Cinco de Mayo is not celebrated in Mexico.
Today, May 5 is more about Mexican immigrants and those of Mexican descent living in the United States, celebrating their culture and pride in Mexico.
It is celebrated in a myriad of ways. Parades and festivals are held, but indulging in Mexican and Tex-Mex fare is probably one of the most popular ways to commemorate the day.
And what better way to celebrate than with nachos?

Orange Claro Margarita Glasses
Go to details

Fethiye Painted Red Plate
Go to details

Antika Striped Dyed Woven Organic Cotton Tablecloth
Go to details

Beer Hawk Mexican World Lager Beer Hawk Mixed Pack
Go to details

"Wahaca: Mexican cooking at home" by Thomasina Miers
Go to details
What is the secret of good nachos?
The right nacho cheese sauce is the key ingredient to making the best nachos and layers are crucial. In other words, melted shredded cheddar cheese on tortilla chips won't cut it. But it doesn't have to be difficult! This simple nacho cheese recipe is about to become your new favorite go-to for fun family dinners, parties, and of course, celebrating Cinco de Mayo.
After being too often let down by pub nachos that just weren't quite right, one of our editors made it her mission to find the perfect nacho recipe. Browsing through countless nacho sauce recipes for inspiration and lots of trial and error, she finally reveals her secret recipe.
The best nacho recipe
Serves 2-3 people | Preparation time 20 minutes | cooking time 10 minutes
With an emphasis on getting the basics right, this is a paired nachos recipe. Keep it simple for a quick dinner for two – or go ahead and add your favorite toppings for decadent loaded nachos.
Follow us as we make these three-part nachos:
Make the best homemade guacamole
Prepare a melty and creamy nacho cheese sauce
Assembly of the nachos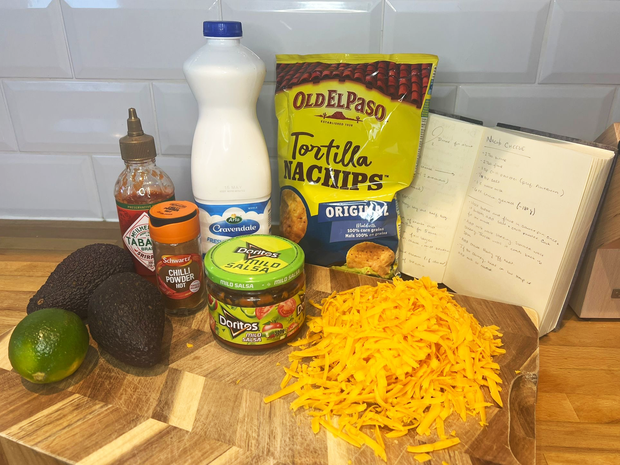 Ingredients
2 ripe avocados, peeled, pitted and cut into chunks
2 tablespoons salsa, we used Doritos salsa here but we also like Old El Paso salsa
0.5 lime
30g butter
20g flour
0.25 tsp salt
1-1.5 tsp hot pepper powder, we used this one
250ml whole milk, we prefer this one
200 g Red Leicester* cheese, grated
Sriracha
1 packet of salted tortilla chips, we recommend these
Sour cream (optional)
*We highly recommend Red Leicester over other cheeses. Its mild nature takes on the flavor of the chili well and its color gives a nacho cheese sauce with that iconic yellow-orange look. Nacho sauce also tends to be less fatty when made with Red Leicester.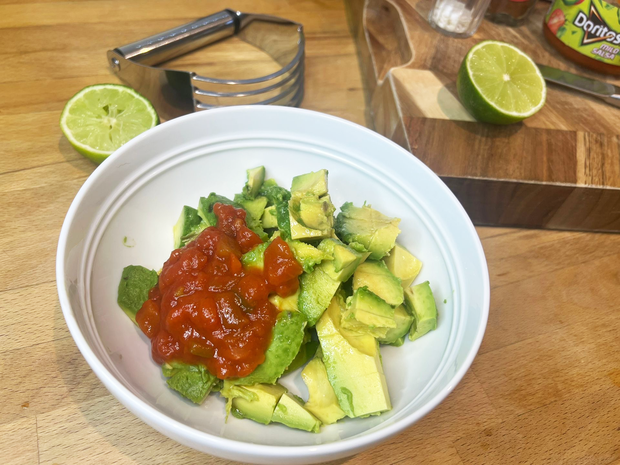 Make an easy guacamole
In a small bowl, combine the diced avocado and the salsa. Mash until just combined with a fork or pastry blender.
Add the lime juice cut in half and a pinch of salt.
Put aside.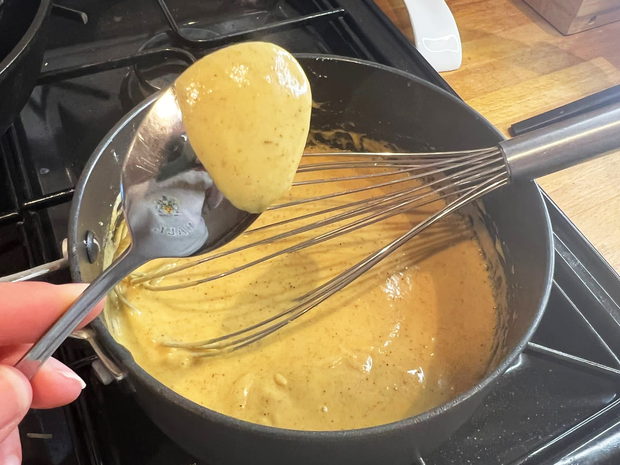 Simple Nacho Cheese Sauce
In a medium saucepan, heat the butter and flour over medium-high heat. Whisk continuously until combined.
When bubbly, add salt and chili powder. Continue whisking continuously for one minute.
While whisking, slowly add the milk to the butter mixture. Be sure to stir constantly so the milk doesn't burn.
Continue whisking the mixture for 2-3 minutes or it thickens enough to just coat the back of a spoon. We recommend a thinner roux, which results in a thinner cheese sauce.
Reduce the heat to the lowest setting and stir in the grated cheese in batches. Continue to stir until all the cheese is incorporated.
If your nacho cheese sauce isn't spicy enough, add more chili powder, a quarter teaspoon at a time.
Leave on low heat or no heat, stirring occasionally to keep the cheese sauce in a liquid form.
Assembly of the nachos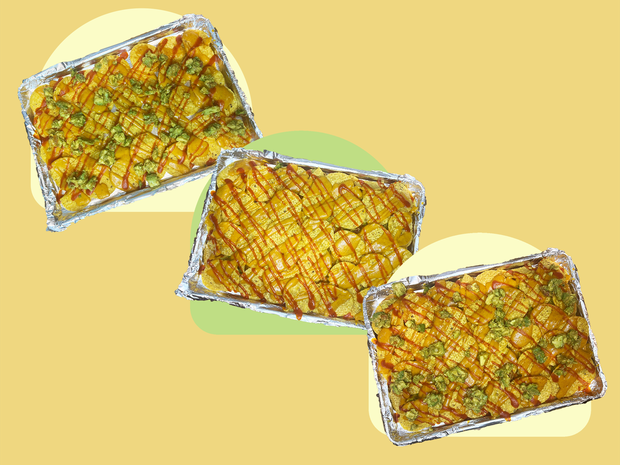 Preheat the oven to 200°C/thermostat 6.
Line a baking sheet with aluminum foil.
Spread the tortilla chips into a single chip layer.
Pour nacho cheese sauce over top to desired cheese.
Drizzle with Siracha sauce
Bake for 5 minutes.
Remove from oven and spoon half of the guacamole over the hot nachos.
Repeat steps 3-5.
Cook 3 to 5 minutes.
Remove from oven, add remaining guacamole and serve with sour cream if desired.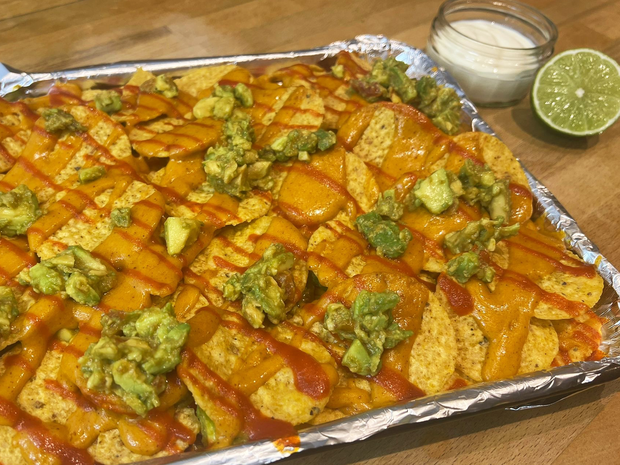 Loaded Nacho Variation
If you choose to add more toppings, add any room temperature or hot ingredients between steps 4 and 5. These can include:
Cooked, shredded chicken or leftover cooked ground beef
Black olives
Jalepenos
Sautéed onions and peppers
For fresh ingredients, like pico de gallo or cilantro, add them in steps 7 and 10.
What else do you need to get into the Cinco de Mayo spirit
Want to create a more festive atmosphere? Here are more items that will make your Cinco de Mayo celebration even more fun.
Resources for this article include:
---
Rates updated on 04/28/2022. We are not responsible for price changes mentioned above.