Throughout my life I have been burned by countless bad veggie burgers. Eventually, I decided enough was enough. Tired of the tasteless patties thrown away after the fact, I knew it was time for me to take matters into my own hands. And so, my Sweet Potato Falafel Burger recipe was born.
Don't get me wrong, I'm grateful for a world where vegetarian alternatives abound, making me feel less left out when summer barbecue season begins. But after too many soy burgers that did nothing for my taste buds and meatless takes that made me resort to a homemade grilled cheese situation (OK, not the worst option), I had to to act. And with this Sweet Potato Falafel Burger recipe (literally) in hand, I am now Actually looking forward to months of grill gatherings to come.
In my quest for a really good homemade veggie burger, I turned to a few bite-sized ingredients that I always have on hand. I wanted flavor upon flavor (even more flavor), something that was easy to put together and that would keep everyone coming back for seconds. Get ready for a recipe that ticks all the boxes, and more.
How to make this Sweet Potato Falafel Burger Recipe
As the name suggests, these burgers are a combination of classic falafel ingredients and everyone's favorite tuber, the sweet potato. With the savory flavor and kick of spice, you can bet these burgers will be delicious.
The problem with many veggie burgers is that the texture can sometimes be too soft. And while they can be delicious, it's a little hard to put together and eat burgers when they don't have enough texture. I've noted a few ways to make assembly and cooking easier to get you closer to a tasty result.
Pre-cook your vegetables. This reduces the amount of water in the burger and allows for a firmer texture. A quick and short route? The microwave! This increases the cooking time tenfold. Additionally, sautéing the onions with the spices not only brings out the flavor of the spices, but also removes the water.
Cool your patties. Placing your burgers in the fridge makes them easier to handle/cook. I recommend refrigerating for at least an hour if you want to cook them the same night. But if the weather permits, let your patties cool overnight.
Oven vs fried. These burgers can be prepared in the pan or in the oven. If using a pan, generously oil the pan and be sure to let the burgers brown completely before flipping to prevent sticking. Also, don't form too large patties, as this will make it harder to flip and possibly break the burger. Which, if that happens, don't worry, just overwrite it. If using the oven, note that it will only dry out the burgers slightly, so be sure to generously oil both sides and flip them halfway through cooking.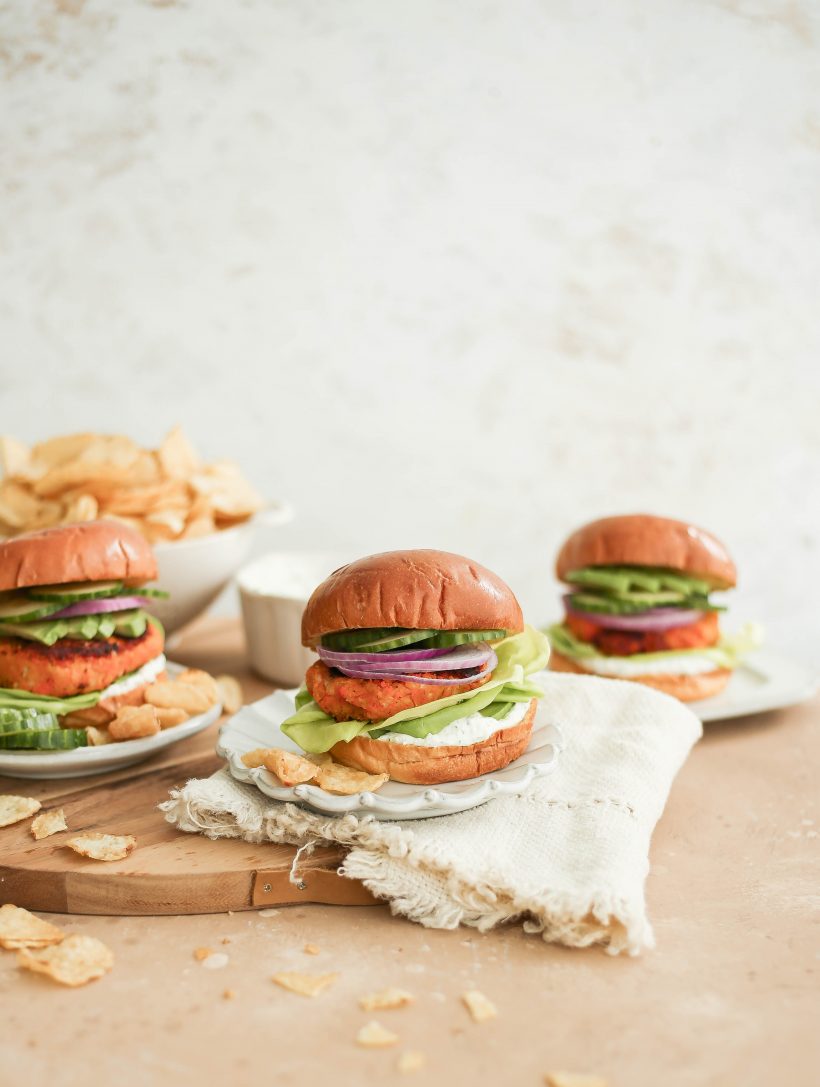 What do I serve with my burgers?
Although the burger patties are packed with flavor, I have the most fun when it comes to assembly. You're most welcome to let your creativity and whims guide you (highly recommended!), but take comfort in knowing that there's no shortage of inspiration to get you started.
Everyone loves a classic, and nothing says nostalgia quite like tomatoes, lettuce, and cheese (plus, of course, your condiments of choice). But when it comes to my personal preferences, I like to lean into Mediterranean flavors, and I find that approach pairs perfectly with this particular recipe.
For a burger that tastes like dining on a beautiful Greek island, start with a feta yogurt dressing. I love the salty flavor of this recipe and its ability to balance the sweetness of burgers. The good news is that this dressing couldn't be easier to mix. Mix some feta with Greek yogurt and add your lemon juice and cilantro if desired. Spread on your buns. Go.
If this combo doesn't speak to you, you can also try red onions and cucumbers for a fresh bite. I also think caramelized onions or charred vegetables could be delicious toppings. Have fun experimenting with different combinations of ingredients and creating your own personal burger perfectly suited to your tastes.
And of course, it wouldn't be a summer burger if you didn't serve crispy chips or your favorite fries on the side.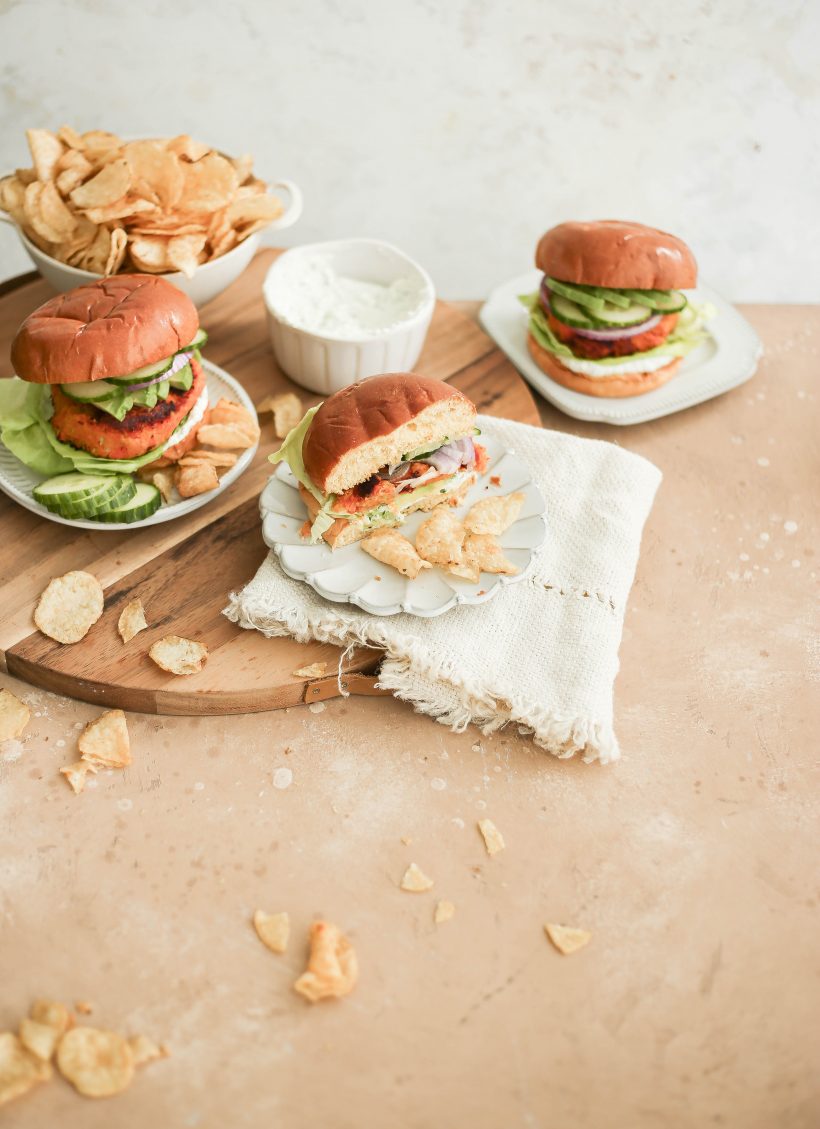 For the ultimate summer barbecue
Remember: those burgers are only part of the summer kickoff equation. For all my vegetarian friends and meat eaters, try the following pairings for the ultimate summer menu.
Watermelon and Tomato Caprese Salad For a freshness that is a tasty contrast to those sweeter burgers, this salad is a must.
Cucumber and feta salad If you go for feta and red onion on these burgers, use leftovers to assemble this salad for a tangy-salty combo.
Green Goddess Pasta Salad For something a little heartier on the burger side, I love this Green Goddess Pasta Salad. It can be made ahead and its bright flavors balance out a hearty meal.
Honey Grilled Peaches with Ice Cream No gathering is complete without dessert, and these grilled peaches are a delicious finish to any party.